Drawing lessons in paris. The course of drawing lessons in Paris is customized and depends on the level of the student and his tastes: it covers a technique especially (pencil, charcoal, chalk,  pastel…) or on a topic chosen by the student (volume, portrait, architecture, perspective drawing, composition, still-life, studies of drapery, scenery…).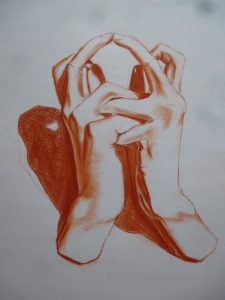 Beginners and experts, adults and adolescents (13 years and older), you are welcome. Accordingly you can register at any time. Drawing classes are held in small groups and per 2-hour session in order to give a individualised teaching. Rates are decreasing for a payment on a quarter and a half. The hourly rate is low due to the customization of the course. And the material is not provided by the course.
RATES of drawing lessons :
1 session (2 h) the test : 43 euros
Subscription to 27 sessions: 647 euros (11,99 euros/hour) for a student, valid 28 consecutive weeks.
to 13 sessions: 364 euros (13,99 euros/h) for a student, valid 14 consecutive weeks.
 to 5 sessions: 179 euros (17,87 euros/h) for a student, valid 5 consecutive weeks.
To register or acquire a voucher, please email : avril75011@gmail.com
Drawing internship
Personalized drawing courses, in small groups (max 6 students) are organized in Paris during the holidays, and adapted to adults and teenagers over 13 years old, beginners or confirmed students.
And you have the choice between 4 types of drawing internship in Paris on 3 or 4 days at your convenience (Monday, Tuesday, Wednesday and / or Thursday and / or Friday): lire stage de dessin.
The schedules of the drawing course in Paris are from 11h30am to 1h30 pm and from 2h30pm to 6h30 pm (except for the 12pm course over 3 days which takes place from 2pm to 6pm). And the student agrees to bring his material :
sheets of paper,
pencil,
charcoal,
eraser,
pencil sharpener,
blood pencil,
colored pencil,
dry pastel.
If, however, you would like a 3-day course (18h) or 4 days (24h)  on specific dates, please contact us.
Of course, the course will send you a list of suggested supplies and shops, close to the workshop, such as Géants des beaux-arts or Rougié-Plé or Boesner.
Please, book your place by email indicating the chosen formula and the dates that suit you: avril75011@gmail.com
Place of the course: 24 rue Léon Frot, 75011 Paris, near Nation.